PEER COMMUNITIES
Peer Communities (PC) are groups of staff who come together around a shared interest in or affinity with a particular membership, program, or service area. Staff who participate in peer communities seek to share knowledge, learn, and innovate with each other.
PEER COMMUNITY STRUCTURE (Chapter 41)
Chapter 41 has chosen to structure Peer Communities in three (3) neighborhoods in our Alliance: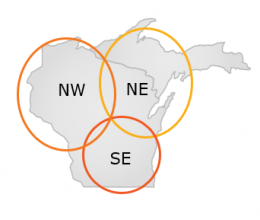 Northwest Region: Camp Jorn, Camp Manito-wish, Chippewa Valley, La Crosse, Marshfield, Northwoods, South Wood County, Stevens Point, Superior-Douglas, Woodson
 
Northeast Region: Door County, Fond du Lac, Fox Cities, Green Bay, Marquette County, Northern Lights, Manitowoc-Two Rivers, Marinette-Menominee, Oshkosh, Sheboygan
 
Southeast Region: Dane County, Dodge County, Geneva Lakes, Glacial Community, Green County, Kettle Moraine, Milwaukee, Northern Rock, Phantom Lake Camp, Racine, Stateline, Waukesha County
Each PC has it's own Statewide Leader, then within each neighborhood Peer Community is a Neighborhood Leader. These staff are responsible for ensuring communication and networking happens throughout the state.
PEER COMMUNITY LEADERSHIP (Chapter 41)
Interested in a possible leadership position within Peer Communities?
Click here for the Statewide Leader job description
Click here for the Neighborhood Leader job description
Email JJ Raflik at jraflik@fdlymca.org if you would like more information!
• Aquatics
• Branch Directors
• Business/Finance
• Day Camp/School Age
• Child Care - Full Day
• Financial Development
• Facilities
• Group Exercise/Healthy Living
• Gymnastics
• Human Resources
• Information Technology
• Marketing
• Membership
• Youth in Government
• Youth Sports
If you would like to serve as a neighborhood or statewide leader for these new groups, please email Julia!
Any full or part time employee of a Y can join a Peer Community. It's free! Generally speaking, new full time management staff are automatically added to the YPN Peer Community once they are hired. Your local HR department takes care of that!
To officially declare your interest in joining a peer community within YPN Chapter 41, please contact your statewide leader, JJ Raflik at jraflik@fdlymca.org.
Yes, you may participate in as many Peer Communities as you like.